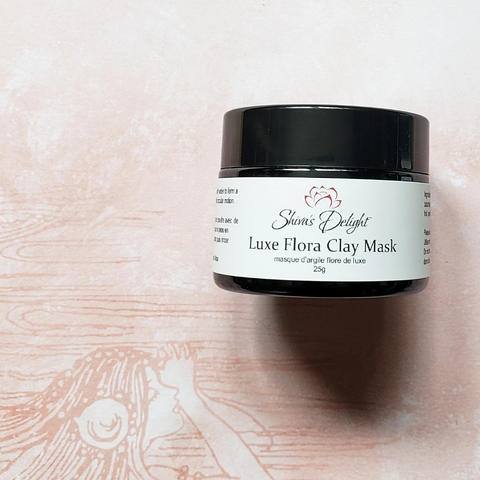 A luxurious blend of mineral rich clays, gentle botanicals and magnesium rich Brazilian purple clay. It will gently remove impurities, cleanse the skin and will enhance circulation which may help stimulate elastin and collagen production. 
This mask is targeted for normal to mature skin and is gentle enough for those with sensitive skin as well. 
25g. Amber Glass jar
Our masks are activated by adding a liquid of your choice such as water, toner, rose water, serum etc to customize the experience and results for your skin type. 
Directions:  Pour 1-2 tsps of mask  powder into small dish and mix with water, toner or your desired liquid until the mask forms a thick spreadable consistency.  Apply to skin in a ciruclar motion. Allow to completely dry then rinse. Follow up with your favourite moisturizer.  
Ingredients: white kaolin clay, purple kaolin clay (Brazilian), rhassoul clay, organic lavender powder, rose petal powder, cucumber powder, rosehip powder 
Allergy warning: May contain traces of nut oils. 
Related Products
---