Lavender Patchouli Magnesium Deodorant
---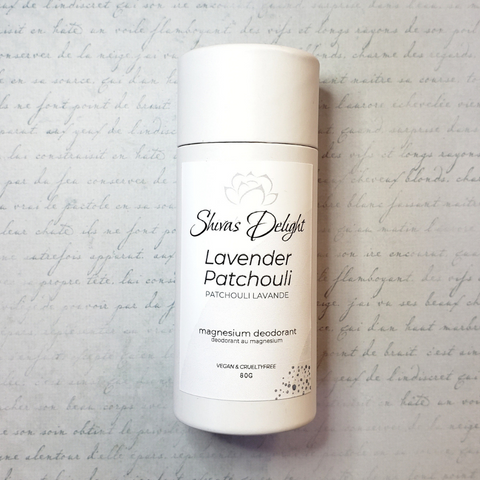 Our new Lavender Patchouli Deodorant is baking soda free! You asked and we listened. This gentle deodorant is made with magnesium powder and is perfect for those with sensitive skin. The scent is a blend of eco certified Bulgarian lavender, dark patchouli and organic tea tree essential oils. It is also vegan and cruelty free certified by the Leaping Bunny Organization and is made with plant based 100% natural ingredients.  We are already in love with this blend and can't wait for you to try it too! 
Our deodorants come in eco-friendly paperboard tubes so they are safe for the environment and plastic free. 80g 
Directions: Hold product against skin for a few seconds to warm deodorant, then glide onto underarms.  Store is  cool dry area away from direct sunlight. 
Ingredients: organic coconut oil, arrowroot powder, organic shea butter, magnesium hydroxide powder, candelilla wax, organic golden jojoba oil, bentonite clay, patchouli oil, Bulgarian lavender oil, organic tree oil 
Allergy warning: may contain traces of nut oils.
Related Products
---